Tummy Tuck vs. Liposuction
Plastic surgery can enhance your body shape using multiple surgical approaches depending on your aesthetic goals and anatomic realities. Tummy tuck surgery and liposuction are both body contouring surgeries that can dramatically improve body shape in different ways. Choosing between them means selecting the one that is better for your individual needs.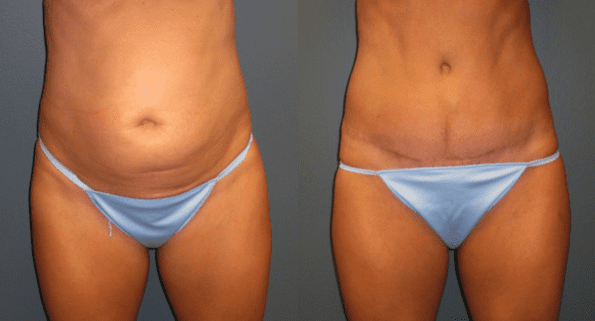 Tummy Tuck
Tummy tuck surgery can help you achieve a flat, firm abdomen. To accomplish this, this procedure targets three common issues: lax stomach muscles, excess and sagging skin, and localized abdominal fat. These issues are isolated to the abdominal area, which is why the procedure earned the nickname "tummy tuck" surgery. Candidates for a tummy tuck typically struggle with all of these issues and desire to improve the definition and contour of this specific area of their body. Candidates should also be at or near their goal weight before undergoing tummy tuck surgery.
Liposuction
Liposuction can help you achieve a more desirable body shape in general. The procedure can selectively target and destroy pockets of stubborn fat on the abdomen, hips, thighs, arms, back, neck, and virtually anywhere else on the body. Candidates for liposuction have good skin quality and muscle tone, but they are bothered by stubborn fat accumulation in select areas. Candidates should also be at or near their goal weight before undergoing liposuction.
Major Differences
Area of Treatment:

While tummy tuck surgery focuses solely on the abdomen, liposuction can be performed anywhere on the body.

Skin:

Tummy tuck surgery can tighten loose, sagging skin in the abdomen. Liposuction treats only fat and requires the skin to be healthy and taut for optimal results.

Muscle Tone:

Liposuction only provides fat removal, whereas tummy tuck surgery can also tighten the core muscles of the abdomen to create better definition and firmness.

Scarring:

Liposuction leaves minimal to no scarring while tummy tuck surgery may leave noticeable scars in the lower abdomen.

Invasiveness:

While both procedures are surgical, tummy tuck surgery is more invasive and therefore has a greater level of surgical risk, more side effects, and a longer recovery.

Cost:

The cost of tummy tuck surgery is higher than the cost of liposuction, mostly because the procedure is more complex on the part of the surgeon.
Patients can experience dramatic body contour enhancement by undergoing liposuction and/or tummy tuck surgery. These procedures are both designed to help patients achieve their aesthetic goals by improving their body shape. Many patients can undergo both procedures for even greater body contouring results.
Whether you need liposuction for fat removal or tummy tuck surgery for fat removal combined with skin and muscle tightening, these body contouring procedures can be greatly beneficial. During your personal consultation, board-certified plastic surgeon Dr. Matthew Conrad can identify which of these procedures is best for your needs. Call us at 316-681-2227 or complete our online contact form to request your appointment today.
Read More