8 Reasons for Men to Get Plastic Surgery Treatments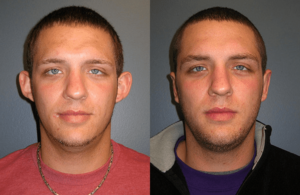 Did you know that well over one million American men underwent surgical or non-surgical cosmetic procedures in the last year alone*? Plastic surgery can enhance your appearance and give you a competitive edge in your social and work life. Here are eight reasons to improve your appearance with male plastic surgery procedures.
1. Reduce Facial Aging
Is your forehead lined with heavy wrinkles? Do you have deep hollows beneath your eyes? Do people around you frequently comment that you look tired, angry, or sad? Wrinkles and hollows are signs of aging skin and can be corrected with non-surgical treatments. Dermal fillers and BOTOX® Cosmetic can reduce facial wrinkles and lines so that your face looks smooth, young, relaxed, and refreshed.
2. Improve Sagging Eyelids and Bags Under the Eyes
Excess lines or skin above the eyes is caused by sagging upper eyelid skin. Bags under the eyes are caused by displaced fat. Both issues detract from your appearance and can make you look significantly older than you feel. You can recapture your youthful appearance from the glory days with eyelid surgery to tighten the tissues of your eyelids and smooth away wrinkles and bags.
3. Eliminate Jowls, Wrinkles, and Sagging in the Lower Face and Neck
Men and women both suffer the effects of aging. Over time, gravity can take a toll and leave you with heavy jowls, folds, sagging, a double chin, and visible muscle bands. A facelift with a neck lift can eliminate these issues to improve definition in your jawline, neck, and face. After this surgery, you could look as much as five to 10 years younger.
4. Get Rid of Stubborn Fat
A lot of men are dismayed when they discover that their high school days of gorging on pizza and junk food without gaining weight are gone. Over time, the metabolism slows down and the body tends to pack on the pounds. With procedures like tummy tuck surgery, liposuction, and CoolSculpting®, men can get rid of stubborn fat. These procedures target fat deposits to restore a leaner and more toned figure.
5. Flatten a Beer Belly
The abdomen is one of the main fat deposits in the body. If yours has developed a bit of a paunch, or even if it has turned into a full-blown beer belly, tummy tuck surgery may be able to help you. This surgery can eliminate stubborn belly fat and tighten your core muscles and sagging skin to give you a flatter, more masculine abdomen.
6. Masculinize Your Chest
Some men have overdeveloped breast tissue or excess fat in the chest that gives them the appearance of male breasts. This disconcerting condition is known as gynecomastia and can cause embarrassment and discomfort. Male breast reduction is an excellent procedure that can remove the excess breast tissue and fat to permanently improve your chest contours.
7. Tighten Sagging Skin
Aging and gravity both take a toll on the skin, causing it to sag almost anywhere on the body. Whether you have sagging skin on your belly, arms, thighs, or elsewhere, there's a procedure for you. Some of the most popular surgeries that tighten sagging skin are tummy tuck surgery and arm lift surgery.
8. Enhance Facial Features
For some men, it's not a battle against aging but rather a battle against genetics. For instance, if you have a naturally weak, recessed chin, you may have a harder time presenting yourself with masculine confidence. A chin implant can add definition to your jawline to improve your facial structure and portray a more confident look. Likewise, rhinoplasty (one of the most popular plastic surgery procedures among men) can redefine your nose for better facial balance and attractiveness. Finally, otoplasty can make large ears smaller or make ears that stick out lie flatter against the head. These procedures can enhance your facial features to improve your appearance.
Men have as much to gain from plastic surgery as women. If you would like to learn more about procedures that could improve your appearance, request your consultation with Dr. Matthew Conrad. Call (316) 681-2227 or contact us online to get in touch with us today.
*Statistic provided by the American Society for Aesthetic Plastic Surgery.
Read More