Wake Up Your Droopy Eyes With Blepharoplasty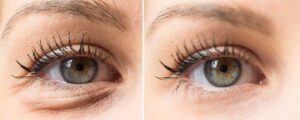 Droopy, sagging eyelids can give you a sleepy, worn appearance. Even after a full night's rest or a relaxing vacation, you may still look like you've just pulled an all-nighter. Blepharoplasty can brighten and refresh your appearance so that you don't look fatigued all the time. This surgery for your eyelids can rejuvenate your whole face and give you a more awake and youthful look.
What Is Blepharoplasty?
Blepharoplasty is a plastic surgery procedure that addresses aging, sagging tissue in the eyelids. It can be performed to rejuvenate either the upper or lower eyelids or both together. Also called an eyelid lift or eyelid surgery, blepharoplasty removes redundant eyelid skin and repositions or removes fat to correct bags, puffiness, wrinkles, and drooping in the eye area.
What Can Blepharoplasty Correct?
Blepharoplasty can rejuvenate the eyes to improve a perpetually tired, angry, or sad appearance. Specifically, eyelid surgery can correct the following:
Droopy upper eyelids
Upper eyelid hooding that impairs vision
Puffy upper eyelids
Bags under the eyes
Grooves under the eyes
Drooping lower eyelids
Loose skin around the eyes
Fine lines and wrinkles around the eyes
What Is It Like to Undergo Blepharoplasty?
After administering either general anesthesia or local anesthesia with sedation, your surgeon will begin the procedure. Depending on whether you undergo an upper blepharoplasty, lower blepharoplasty, or both, incisions will be inconspicuously placed in the natural creases of the upper eyelids, below the lower lash line, or inside the lower eyelids. Your surgeon will remove excess skin and reposition or remove fat deposits to rejuvenate your eyes. After one to three hours, the procedure will end, and you will return home. After a short recovery of five to seven days, you should be able to return to work. As your swelling subsides, you will see a noticeable improvement in how refreshed and youthful you look. The results of blepharoplasty will not only brighten your eyes but will revitalize your entire face.
Read More