When Is the Right Time to Undergo Treatment for Acne Scars?
3 Minute Read: 
Various methods are used to combat acne scarring, and in most cases, patients are advised to wait until their breakouts are under control before undergoing treatment. However, that leaves individuals with severe acne and scarring to continue suffering without relief for years.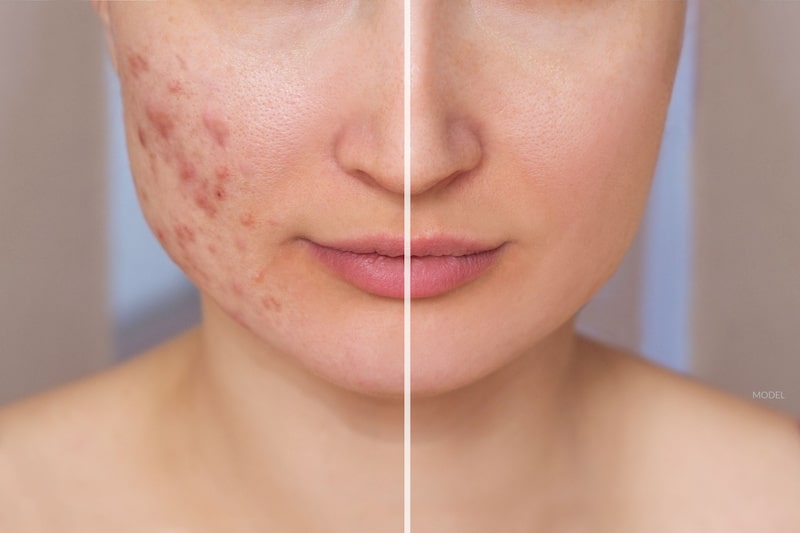 If you are a teen or young adult dealing with active breakouts and scars, delaying treatment is the most cost-efficient approach, but there are some steps you can take now to reduce both current acne eruptions and past scarring.
Early Treatment of Acne and Acne Scarring
One of the easiest ways to treat active acne and acne scarring is by using a quality skin care product containing retinoids. This topical treatment effectively treats acne breakouts and improves the appearance of acne scars. 
Retinoids are derived from vitamin A and help slow oil production while promoting rapid new skin cell growth and the shedding of damaged cells.
This approach may be sufficient to control acne breakouts and reduce the appearance of scars or prevent them from worsening until you are ready for a more permanent solution.
How to Know if You're Ready for Acne Scar Treatment
If your acne breakouts have been under control, or they have stopped because you are well into adulthood, the time may be right for a more intensive acne scar procedure. 
A consultation with a qualified treatment provider can help you understand your options and how one or more procedures may interact with your current acne treatment, if relevant.
Your
Best Acne Scar Treatments
For permanent acne scar removal or reduction, choose from one of these effective procedures:
Laser skin resurfacing

Excisions and subcisions
Laser Skin Resurfacing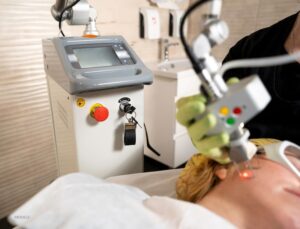 Laser skin resurfacing with DOT Therapy (Dermal Optical Thermolysis) removes the older, top layers of skin and stimulates collagen production within the now exposed, newer layers of skin.
DOT therapy involves thousands of targeted microscopic perforations made in the affected skin while leaving the surrounding skin intact. 
This technique offers a safe, fast, efficient method of removing acne scars and quick healing with these additional benefits:
Minimally invasive

Little downtime

Fast recovery

Long-lasting results
With this technique, expect some visible redness to last a few days and avoid wearing makeup for a minimum of three days. Apply cold compresses to your skin to reduce tenderness and keep it hydrated with a recommended moisturizer. 
You should notice a smoother complexion after about 10 days while your skin continues to improve over the following weeks. Depending on the condition of your skin, multiple sessions may be necessary.
Excisions and Subcisions
The subcision method involves inserting a special needle beneath indented scars to release the underlying dermis and allow the affected skin to rise back to the surface. 
The excision method involves using a biopsy instrument to make a punch incision around an indented scar, replacing it with a flatter, slit-type scar that can then be filled with healthy skin harvested from another area to improve texture.
Recovery may include mild bruising and swelling for up to two weeks. The treated areas should be kept clean at all times, and any bandages changed daily.
After a few weeks, you should be finished healing and see a substantial improvement in the tone and texture of your skin with a significant reduction in the appearance of acne scarring.
A combination of the above acne scar removal procedures is often advised for best results.
Temporary
Acne Scar Solutions for Adults
Another option to reduce the appearance of acne scars is an injectable filler such as:
Bellafill®

JUVÉDERM® XC 

PREVELLE™ Silk Dermal Filler

Restylane-L®
These injectable fillers can help smooth skin by filling indented acne scars in less than an hour with no downtime. 
Individuals who choose this method to treat acne scars can expect their results to last from six to 12 months.
Acne Scar Treatment in
Wichita, KS
If you are ready to treat your acne scars, Dr. Matthew Conrad is a well-respected and experienced cosmetic surgeon in Wichita, Kansas, offering these non-surgical acne scar treatments to help you achieve smoother, healthier-looking skin. 
He also provides microdermabrasion to treat mild acne scarring and medical-grade skin care products to help maintain and protect your results.
Call us today to schedule your consultation at (316) 681-2227 or by filling out our convenient contact form.
Read More